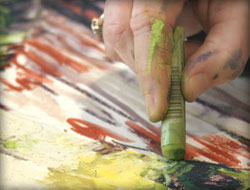 About the Artist
Eileen McCann, currently residing in Tallahassee, was born in upper New York state and raised in New Jersey and Connecticut. Her earliest interests and training in art were fostered by her Aunt Alice. As young as 6 years old she was painting landscapes in oils in the fashion of her Aunt's own landscapes. Her interest in drawing and painting the natural settings around her was always present and often offered her a time and place of refuge from her large family of seven siblings.

Eileen moved to Gainesville to attend University of Florida and began a decade of teaching art to high school and eventually elementary school children in Tallahassee. During these years she spent two years in the Georgia mountains doing batiks as an independent artist. She presented her work at shows and several small galleries during that time.

While teaching in Tallahassee in the mid 80's, Eileen began course work in Art Therapy at Florida State University. This led to a change in artistic and personal direction. The connection between art and therapy has not been lost since those early involvements with Art Therapy. Currently Eileen works full time as a psychotherapist in private practice in Tallahassee.

In the mid 90's Eileen began experimenting with pastels during some personally difficult years. These abstract inner landscapes became the most creative and soulful works she had done. Eileen began translating her knowledge of working with pastels into her love of the landscapes and imagery she saw around her in northern Florida and Georgia. She loved the immediacy and directness of the pastels and found them a perfect medium for her landscape paintings. She currently shows her work in small galleries and offers work by commission.